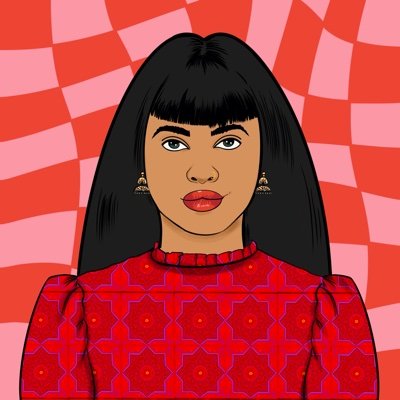 WomenRise NFT
Created almost 2 years ago
10,000 token supply
OpenSea verified collection
7% Fee
15,907 Discord members
56,816 Twitter followers
WomenRise NFTs were sold 8 times in the last 7 days. The total sales volume for WomenRise was $542.79. The average WomenRise NFT price was $67.8.
The current WomenRise floor price is Ξ0.03.
There are 5,554 WomenRise owners, owning a total supply of 10,000 tokens. This collection was created almost 2 years ago (November 26th, 2021). It is among the oldest 35% of collections.
Women Rise is celebrating and representing women scientists, activists, artists, coders and more.
We're a web 3.0 initiative with the focus on women's rights and girls' education through using art as a tool for advocacy.
At its core Women Rise is an art centric collection of 10,000 NFTs but there is so much more to Women Rise beyond the incredible artwork! We are a community of likeminded people from around the world who share a passion for storytelling and raising awareness for the important issues of our time using power of art, community and technology.
Trading volume
last 7 days
$543
WomenRise Value
Average price last 7 days
$68
WomenRise Floor Price
Lowest Ask Price
Ξ0.03
Total Supply
Number of tokens
10,000
Owners
Number of owners
5,554
Recent WomenRise sales
Top Selling WomenRise NFTs of the last 30 days
Users who bought WomenRise also like
WomenRise NFT - Frequently Asked Questions(FAQ)
▶ What is a WomenRise?
WomenRise is a NFT (Non-fungible token) collection. A collection of digital artwork stored on the blockchain.
▶ How many WomenRise tokens exist?
In total there are 10,000 WomenRise NFTs. Currently 5,554 owners have at least one WomenRise NTF in their wallet.
▶ What was the most expensive WomenRise sale?
The most expensive WomenRise NFT sold was
Women Rise : 7073
. It was sold for $122.9 on September 18th, 2023 (7 days ago).
▶ How many WomenRise were sold recently?
There were 73 WomenRise NFTs sold in the last 30 days.
▶ How much does a WomenRise cost?
In the last 30 days, the cheapest WomenRise NFT sales were below $49, and the highest sales were for over $94. The median price for a WomenRise NFT was $63 in the last 30 days.
▶ What are popular WomenRise alternatives?
WomenRise Community Stats