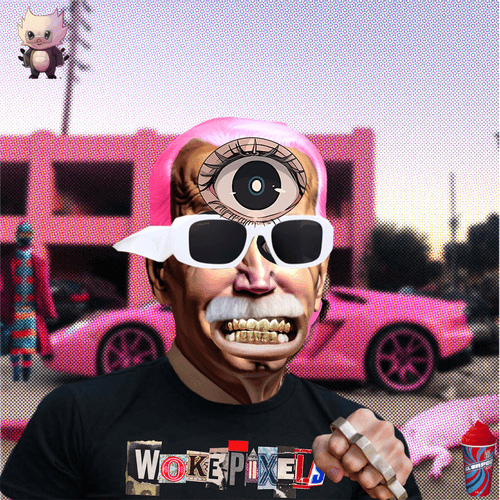 WokePixels NFT
Created 4 months ago
6,969 token supply
5% Fee
Fresh Project
WokePixels NFTs were sold 23 times in the last 7 days. The total sales volume for WokePixels was $299.5. The average WokePixels NFT price was $13.
The current WokePixels floor price is Ξ0.01.
There are 1,625 WokePixels owners, owning a total supply of 6,969 tokens. This collection was created 4 months ago (May 20th, 2023). This is a new collection, it is among the newest 5% of collections.
While the "WokePixels" project embodies an extreme notion of political correctness, it is, at its core, a satirical commentary on society at large. Every element, character, and pixel has been artificially crafted with no association to any real person, product, or organization. It's a humorous mirror held up to our times, not promoting or detracting from any individual or entity, but rather encouraging reflection on the social dynamics of our rapidly evolving, interconnected world.
Trading volume
last 7 days
$300
WokePixels Value
Average price last 7 days
$13
WokePixels Floor Price
Lowest Ask Price
Ξ0.01
Total Supply
Number of tokens
6,969
Owners
Number of owners
1,625
Recent WokePixels sales
10th percentile price
last 7 days
$5
Median price
last 7 days
$11
90th percentile price
last 7 days
$32
Ten percent of the WokePixels sales were for $5 or less, half of the sales were for less than $11 and the highest ten percent were sold for $32 or higher.
Top Selling WokePixels NFTs of the last 30 days
Users who bought WokePixels also like
WokePixels NFT - Frequently Asked Questions(FAQ)
▶ What is a WokePixels?
WokePixels is a NFT (Non-fungible token) collection. A collection of digital artwork stored on the blockchain.
▶ How many WokePixels tokens exist?
In total there are 6,969 WokePixels NFTs. Currently 1,625 owners have at least one WokePixels NTF in their wallet.
▶ What was the most expensive WokePixels sale?
The most expensive WokePixels NFT sold was
WOKEPIXELS #6678
. It was sold for $40.8 on September 6th, 2023 (22 days ago).
▶ How many WokePixels were sold recently?
There were 80 WokePixels NFTs sold in the last 30 days.
▶ How much does a WokePixels cost?
In the last 30 days, the cheapest WokePixels NFT sales were below $6, and the highest sales were for over $22. The median price for a WokePixels NFT was $12 in the last 30 days.
▶ What are popular WokePixels alternatives?