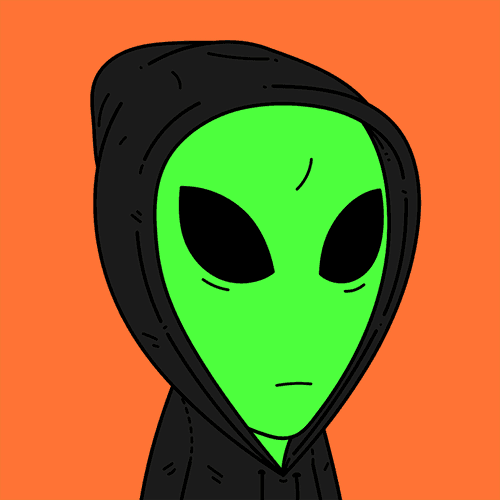 The Visitors NFT
Created about 2 years ago
8,985 token supply
OpenSea verified collection
10% Fee
4,452 Discord members
The Visitors NFTs were sold 5 times in the last 7 days. The total sales volume for The Visitors was $321.57. The average The Visitors NFT price was $64.3.
The current The Visitors floor price is Ξ0.02.
There are 2,127 The Visitors owners, owning a total supply of 8,985 tokens. This collection was created about 2 years ago (August 23rd, 2021). It is among the oldest 13% of collections.
The Visitors by Mike Mitchell
In 2021, aliens made first contact with humans. Their goal was to conquer. Fortunately, they first connected to the internet and instantaneously became too dumb to take over anything. Stranded a million light years away from their home, The Visitors survive on a diet of pop culture garbage from the dumpster of humanity. They are now cursed to share cat GIFs and memes with each other until the end of time.
With an initial minting of 10,001, The Visitors is a deflationary collection that decreases over time as new recycling events occur. There are currently 9,001 Visitors on the Polygon Network.
Each Visitor is eligible for future airdrops, can be used in The Recycler, and has exclusive access.
Please check out our other collection, Cryptoburbs.
Trading volume
last 7 days
$322
The Visitors Value
Average price last 7 days
$64
The Visitors Floor Price
Lowest Ask Price
Ξ0.02
Total Supply
Number of tokens
8,985
Owners
Number of owners
2,127
Recent The Visitors sales
Top Selling The Visitors NFTs of the last 30 days
Users who bought The Visitors also like
The Visitors NFT - Frequently Asked Questions(FAQ)
▶ What is a The Visitors?
The Visitors is a NFT (Non-fungible token) collection. A collection of digital artwork stored on the blockchain.
▶ How many The Visitors tokens exist?
In total there are 8,985 The Visitors NFTs. Currently 2,127 owners have at least one The Visitors NTF in their wallet.
▶ What was the most expensive The Visitors sale?
The most expensive The Visitors NFT sold was
Visitor #1289
. It was sold for $226 on September 30th, 2023 (3 days ago).
▶ How many The Visitors were sold recently?
There were 29 The Visitors NFTs sold in the last 30 days.
▶ How much does a The Visitors cost?
In the last 30 days, the cheapest The Visitors NFT sales were below $20, and the highest sales were for over $175. The median price for a The Visitors NFT was $39 in the last 30 days.
▶ What are popular The Visitors alternatives?
The Visitors Community Stats