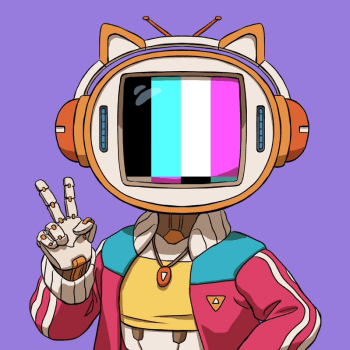 The Blitnauts NFT
Created over 2 years ago
1,546 token supply
OpenSea verified collection
0% Fee
10,818 Discord members
28,221 Twitter followers
The Blitnauts NFTs were sold 2 times in the last 7 days. The total sales volume for The Blitnauts was $484.74. The average The Blitnauts NFT price was $242.4.
The current The Blitnauts floor price is Ξ0.14.
There are 612 The Blitnauts owners, owning a total supply of 1,546 tokens. This collection was created over 2 years ago (September 10th, 2021). It is among the oldest 18% of collections.
The Blitnauts is the first expansion pack for Blitmap.
Built for Blitmap owners, this expansion pack introduces a brand new craftable collection — a faction of sentient robots sworn to locate and protect the Blitmaps, and the heroes of our world.
Learn more about Blitmap and the Blitmap universe by viewing the original collection or our website.
Trading volume
last 7 days
$485
The Blitnauts Value
Average price last 7 days
$242
The Blitnauts Floor Price
Lowest Ask Price
Ξ0.14
Total Supply
Number of tokens
1,546
Owners
Number of owners
612
Recent The Blitnauts sales
The Blitnauts Price Chart
Top Selling The Blitnauts NFTs of the last 30 days
Users who bought The Blitnauts also like
The Blitnauts NFT - Frequently Asked Questions(FAQ)
▶ What is a The Blitnauts?
The Blitnauts is a NFT (Non-fungible token) collection. A collection of digital artwork stored on the blockchain.
▶ How many The Blitnauts tokens exist?
In total there are 1,546 The Blitnauts NFTs. Currently 612 owners have at least one The Blitnauts NTF in their wallet.
▶ What was the most expensive The Blitnauts sale?
The most expensive The Blitnauts NFT sold was
#322 - Kitt Pi II
. It was sold for $325.2 on December 7th, 2023 (4 days ago).
▶ How many The Blitnauts were sold recently?
There were 14 The Blitnauts NFTs sold in the last 30 days.
▶ How much does a The Blitnauts cost?
In the last 30 days, the cheapest The Blitnauts NFT sales were below $182, and the highest sales were for over $280. The median price for a The Blitnauts NFT was $205 in the last 30 days.
▶ What are popular The Blitnauts alternatives?
The Blitnauts Community Stats