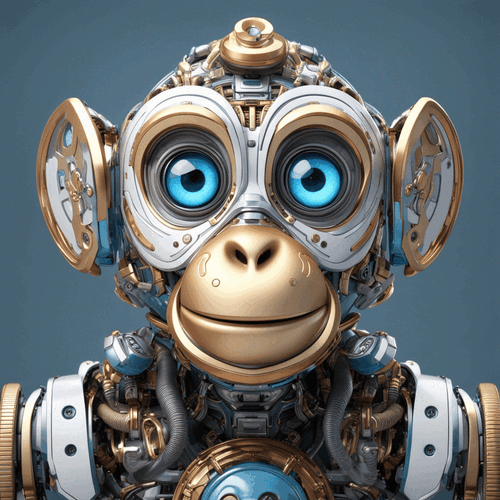 Robotic Apes NFT
Created 3 months ago
41 token supply
5% Fee
Fresh Project
Robotic Apes NFTs were sold 1 times in the last 7 days. The total sales volume for Robotic Apes was $2.27. The average Robotic Apes NFT price was $2.3.
The current Robotic Apes floor price is Ξ0.
There are 12 Robotic Apes owners, owning a total supply of 41 tokens. This collection was created 3 months ago (September 15th, 2023). This is a new collection, it is among the newest 2% of collections.
Journey into the future with our Robotic Apes NFT Collection! These stunning digital artworks seamlessly merge nature and technology, bringing you cybernetic apes in all their glory.
Each NFT is a masterpiece of 3D design, showcasing these mechanical marvels with intricate details and expressive features. Whether they're swinging through futuristic landscapes or exploring digital realms, these robotic apes redefine the boundaries of art and imagination.
Embrace the beauty of nature and the wonder of technology in a single collection. Robotic Ape NFTs are your ticket to own a piece of this groundbreaking fusion. Join us in this journey into the future of art and innovation today!
Trading volume
last 7 days
$2
Robotic Apes Value
Average price last 7 days
$2
Robotic Apes Floor Price
Lowest Ask Price
Ξ0
Total Supply
Number of tokens
41
Recent Robotic Apes sales
Top Selling Robotic Apes NFTs of the last 30 days
Users who bought Robotic Apes also like
Robotic Apes Traits
red: 9.8%
blue: 7.3%
pink: 2.4%
green: 7.3%
white: 12.2%
orange: 2.4%
yellow: 4.9%
gold: 2.4%
ape devil: 2.4%
creator favorite: 4.9%
Robotic Apes NFT - Frequently Asked Questions(FAQ)
▶ What is a Robotic Apes?
Robotic Apes is a NFT (Non-fungible token) collection. A collection of digital artwork stored on the blockchain.
▶ How many Robotic Apes tokens exist?
In total there are 41 Robotic Apes NFTs. Currently 12 owners have at least one Robotic Apes NTF in their wallet.
▶ What was the most expensive Robotic Apes sale?
The most expensive Robotic Apes NFT sold was
Robotic Ape #32
. It was sold for $2.3 on November 29th, 2023 (7 days ago).
▶ How many Robotic Apes were sold recently?
There were 1 Robotic Apes NFTs sold in the last 30 days.
▶ What are popular Robotic Apes alternatives?