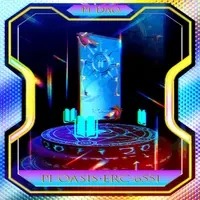 Pi Oasis NFT
Created 7 days ago
25 token supply
50% Fee
Fresh Project
Pi Oasis NFTs were sold 14 times in the last 7 days. The total sales volume for Pi Oasis was $3.16k. The average Pi Oasis NFT price was $226.
The current Pi Oasis floor price is Ξ0.01.
There are 11 Pi Oasis owners, owning a total supply of 25 tokens. This collection was created 7 days ago (September 17th, 2023). This is a new collection, it is among the newest 0% of collections.
Pi Oasis is the first-ever project that utilizes ERC6551+WebGL technology to explore the infinite universe of digital art. Pi Oasis is not just a collection of digital artworks; it is also an interactive platform within the metaverse. Holders of Pi Oasis have access to unique privileges.Pi Oasis delves into the convergence of nature, science fiction, fantasy, and reality, presenting a vast and mysterious origin space. Whether it's dazzling galaxies, enigmatic life forms, or imaginative future scenes, each artwork emanates boundless imagination and the power of art, inviting everyone to explore the artistic wonders within the metaverse.
Trading volume
last 7 days
$3164
Pi Oasis Value
Average price last 7 days
$226
Pi Oasis Floor Price
Lowest Ask Price
Ξ0.01
Total Supply
Number of tokens
25
Recent Pi Oasis sales
10th percentile price
last 7 days
$25
Median price
last 7 days
$63
90th percentile price
last 7 days
$472
Ten percent of the Pi Oasis sales were for $25 or less, half of the sales were for less than $63 and the highest ten percent were sold for $472 or higher.
Pi Oasis NFT - Frequently Asked Questions(FAQ)
▶ What is a Pi Oasis?
Pi Oasis is a NFT (Non-fungible token) collection. A collection of digital artwork stored on the blockchain.
▶ How many Pi Oasis tokens exist?
In total there are 25 Pi Oasis NFTs. Currently 11 owners have at least one Pi Oasis NTF in their wallet.
▶ What was the most expensive Pi Oasis sale?
The most expensive Pi Oasis NFT sold was
#2451
. It was sold for $472.2 on September 17th, 2023 (7 days ago).
▶ How many Pi Oasis were sold recently?
There were 14 Pi Oasis NFTs sold in the last 30 days.
▶ How much does a Pi Oasis cost?
In the last 30 days, the cheapest Pi Oasis NFT sales were below $25, and the highest sales were for over $472. The median price for a Pi Oasis NFT was $63 in the last 30 days.