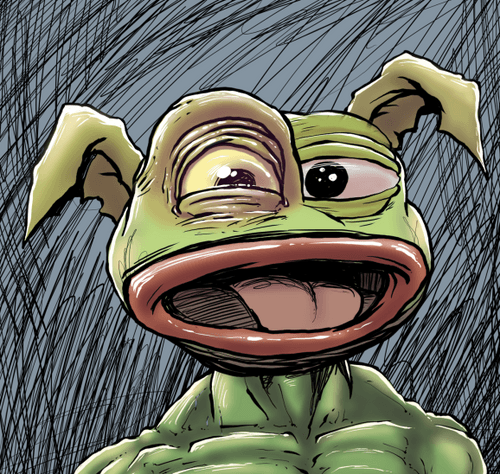 Peepee Goblins NFT
Created 10 days ago
690 token supply
OpenSea verified collection
0% Fee
Peepee Goblins NFTs were sold 74 times in the last 7 days. The total sales volume for Peepee Goblins was $14.3k. The average Peepee Goblins NFT price was $193.2.
The current Peepee Goblins floor price is Ξ0.11.
There are 322 Peepee Goblins owners, owning a total supply of 690 tokens.
Now you too can celebrate and relive the beginning/fun/death/joy/horror/endless cycle of memecoin season! Put a little Peepee the Goblin in your life with this commemorative uncoin collection! This offer won't last long, so order yours today!*
*Peepee the Goblin are not legal tender in any territory. Truth Labs makes no guarantee of the liquidity, validity, agility, humidity, or ribbity of Peepee Goblins. Peepee the Goblin will probably be worth more than the commemorative coin you bought in 1998 at 2 am some drunken Tuesday. Probably.
93.1% Goblin, 6.9% Peepee.
Trading volume
last 7 days
$14.3k
Peepee Goblins Value
Average price last 7 days
$193
Peepee Goblins Floor Price
Lowest Ask Price
Ξ0.11
Total Supply
Number of tokens
690
Owners
Number of owners
322
Recent Peepee Goblins sales
10th percentile price
last 7 days
$109
Median price
last 7 days
$180
90th percentile price
last 7 days
$284
Ten percent of the Peepee Goblins sales were for $109 or less, half of the sales were for less than $180 and the highest ten percent were sold for $284 or higher.
Peepee Goblins Price Chart
Top Selling Peepee Goblins NFTs of the last 30 days
Users who bought Peepee Goblins also like
Peepee Goblins NFT - Frequently Asked Questions(FAQ)
▶ What is a Peepee Goblins?
Peepee Goblins is a NFT (Non-fungible token) collection. A collection of digital artwork stored on the blockchain.
▶ How many Peepee Goblins tokens exist?
In total there are 690 Peepee Goblins NFTs. Currently 322 owners have at least one Peepee Goblins NTF in their wallet.
▶ What was the most expensive Peepee Goblins sale?
The most expensive Peepee Goblins NFT sold was
Peepee the Goblin #311
. It was sold for $917.5 on 2023-05-26 (8 days ago).
▶ How many Peepee Goblins were sold recently?
There were 206 Peepee Goblins NFTs sold in the last 30 days.
▶ How much does a Peepee Goblins cost?
In the last 30 days, the cheapest Peepee Goblins NFT sales were below $128, and the highest sales were for over $349. The median price for a Peepee Goblins NFT was $238 in the last 30 days.
▶ What are popular Peepee Goblins alternatives?