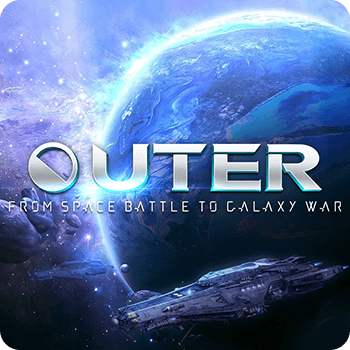 OUTER Spaceship NFT
Created 8 months ago
4,225 token supply
0% Fee
25,859 Discord members
Fresh Project
OUTER Spaceship NFTs were sold 18 times in the last 7 days. The total sales volume for OUTER Spaceship was $8.82k. The average OUTER Spaceship NFT price was $489.9.
The current OUTER Spaceship floor price is Ξ0.18.
There are 963 OUTER Spaceship owners, owning a total supply of 4,225 tokens. This collection was created 8 months ago (April 11th, 2023). This is a new collection, it is among the newest 9% of collections.
OUTER is an open world space themed MMO game based on blockchain technology.
Players will be able to forge their own path to glory within a massive space sandbox environment, form alliances with other pilots from across the galaxy to shape the game's persistent universe.
Spaceship NFT is the most important item in OUTER, and all gameplay requires the use of spaceships.
There are 6 types of spacecraft: Cruisers, Battle Ships, Assault ships, Predatory Ships, Exploration ships and Cargo ships.
Use cases: (1) Stake Spaceships to generate $CFUN tokens. (2) Airdrops from OUTER sub-collections. (3) Bet - hundreds of different rare spaceships worth far more than the current value. (4) Discord identity authentication - free event tickets. (5) Merch - Claim spaceship peripheral products.
⚔️ VENTURE INTO THE UNKNOWN! ⚔️
Trading volume
last 7 days
$8.8k
OUTER Spaceship Value
Average price last 7 days
$490
OUTER Spaceship Floor Price
Lowest Ask Price
Ξ0.18
Total Supply
Number of tokens
4,225
Owners
Number of owners
963
Recent OUTER Spaceship sales
10th percentile price
last 7 days
$404
Median price
last 7 days
$435
90th percentile price
last 7 days
$617
Ten percent of the OUTER Spaceship sales were for $404 or less, half of the sales were for less than $435 and the highest ten percent were sold for $617 or higher.
OUTER Spaceship Price Chart
Top Selling OUTER Spaceship NFTs of the last 30 days
Users who bought OUTER Spaceship also like
OUTER Spaceship NFT - Frequently Asked Questions(FAQ)
▶ What is a OUTER Spaceship?
OUTER Spaceship is a NFT (Non-fungible token) collection. A collection of digital artwork stored on the blockchain.
▶ How many OUTER Spaceship tokens exist?
In total there are 4,225 OUTER Spaceship NFTs. Currently 963 owners have at least one OUTER Spaceship NTF in their wallet.
▶ What was the most expensive OUTER Spaceship sale?
▶ How many OUTER Spaceship were sold recently?
There were 119 OUTER Spaceship NFTs sold in the last 30 days.
▶ How much does a OUTER Spaceship cost?
In the last 30 days, the cheapest OUTER Spaceship NFT sales were below $296, and the highest sales were for over $701. The median price for a OUTER Spaceship NFT was $411 in the last 30 days.
▶ What are popular OUTER Spaceship alternatives?
OUTER Spaceship Community Stats