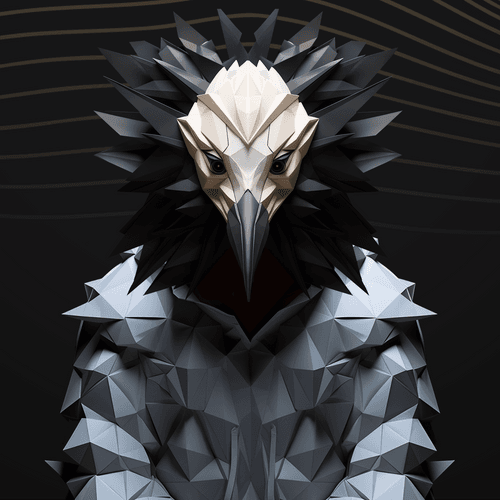 Kizuna Cranes NFT
Created 17 days ago
888 token supply
6.9% Fee
145 Discord members
Fresh Project
Kizuna Cranes NFTs were sold 24 times in the last 7 days. The total sales volume for Kizuna Cranes was $1.65k. The average Kizuna Cranes NFT price was $68.8.
The current Kizuna Cranes floor price is Ξ0.03.
There are 379 Kizuna Cranes owners, owning a total supply of 888 tokens. This collection was created 17 days ago (November 17th, 2023). This is a new collection, it is among the newest 0% of collections.
The Cranes of Kizuna: 88 light-years from Earth, in the Ethereum constellation there exists a terrestrial exoplanet named Kizuna. Kizuna is home to a decentralized community of avian-like creatures known as Cranes. To date, very little is known about the Cranes and it will be up to our dedicated NovaLab community to further explore Kizuna and its mysterious inhabitants.
About NovaLab: We are a trailblazing blockchain-based art project uniting distant web3 communities through storytelling within the framework of a Space Exploration Program. Our story begins with a hyper-intelligent AI-enhanced species of amphibians known as the TurboToads (https://opensea.io/collection/turbotoads). These ingenious explorers spend their days cruising the cosmos in search of distant communities who share the ethos of good vibes & green candles.
Trading volume
last 7 days
$1652
Kizuna Cranes Value
Average price last 7 days
$69
Kizuna Cranes Floor Price
Lowest Ask Price
Ξ0.03
Total Supply
Number of tokens
888
Owners
Number of owners
379
Recent Kizuna Cranes sales
10th percentile price
last 7 days
$44
Median price
last 7 days
$63
90th percentile price
last 7 days
$131
Ten percent of the Kizuna Cranes sales were for $44 or less, half of the sales were for less than $63 and the highest ten percent were sold for $131 or higher.
Kizuna Cranes Price Chart
Top Selling Kizuna Cranes NFTs of the last 30 days
Users who bought Kizuna Cranes also like
Kizuna Cranes NFT - Frequently Asked Questions(FAQ)
▶ What is a Kizuna Cranes?
Kizuna Cranes is a NFT (Non-fungible token) collection. A collection of digital artwork stored on the blockchain.
▶ How many Kizuna Cranes tokens exist?
In total there are 888 Kizuna Cranes NFTs. Currently 379 owners have at least one Kizuna Cranes NTF in their wallet.
▶ What was the most expensive Kizuna Cranes sale?
The most expensive Kizuna Cranes NFT sold was
Kizuna Cranes #851
. It was sold for $1k on November 21st, 2023 (13 days ago).
▶ How many Kizuna Cranes were sold recently?
There were 1,774 Kizuna Cranes NFTs sold in the last 30 days.
▶ How much does a Kizuna Cranes cost?
In the last 30 days, the cheapest Kizuna Cranes NFT sales were below $17, and the highest sales were for over $333. The median price for a Kizuna Cranes NFT was $89 in the last 30 days.
▶ What are popular Kizuna Cranes alternatives?
Kizuna Cranes Community Stats