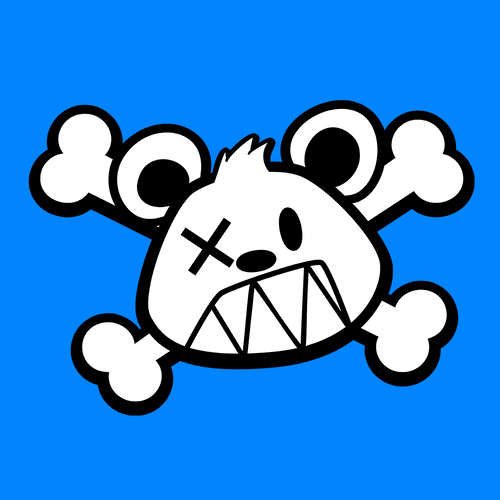 KILLABEARS NFT
Created over 1 year ago
3,332 token supply
OpenSea verified collection
5% Fee
62,552 Discord members
38,262 Twitter followers
KILLABEARS NFTs were sold 51 times in the last 7 days. The total sales volume for KILLABEARS was $57.84k. The average KILLABEARS NFT price was $1.1k.
The current KILLABEARS floor price is Ξ0.59.
There are 1,090 KILLABEARS owners, owning a total supply of 3,332 tokens. This collection was created over 1 year ago (April 12th, 2022). It is newer than 60% of collections.
Welcome to the Killaverse. A world designed for the next generation of digital entertainment. As a member, you'll be swept away on a unique, and unforgettable journey.
Download all your assets (pfp, video, gif and more) by connecting to your Dashboard
Find bears eligible for staking experiences - visit our Bear Portal
Killabears are the stars of the Killaverse. This collection of 3,333 horrifyingly lovable digital collectible characters unlocks access to ongoing immersive entertainment experiences, and a community like no other. Plus - commercial IP rights mean you can build anything you can imagine.
Need help getting started? Check out the overview here
Trading volume
last 7 days
$57.8k
KILLABEARS Value
Average price last 7 days
$1134
KILLABEARS Floor Price
Lowest Ask Price
Ξ0.59
Total Supply
Number of tokens
3,332
Owners
Number of owners
1,090
Recent KILLABEARS sales
10th percentile price
last 7 days
$879
Median price
last 7 days
$970
90th percentile price
last 7 days
$1371
Ten percent of the KILLABEARS sales were for $879 or less, half of the sales were for less than $970 and the highest ten percent were sold for $1371 or higher.
Top Selling KILLABEARS NFTs of the last 30 days
Users who bought KILLABEARS also like
KILLABEARS NFT - Frequently Asked Questions(FAQ)
▶ What is a KILLABEARS?
KILLABEARS is a NFT (Non-fungible token) collection. A collection of digital artwork stored on the blockchain.
▶ How many KILLABEARS tokens exist?
In total there are 3,332 KILLABEARS NFTs. Currently 1,090 owners have at least one KILLABEARS NTF in their wallet.
▶ What was the most expensive KILLABEARS sale?
The most expensive KILLABEARS NFT sold was
KILLABEAR #3239
. It was sold for $9.7k on September 11th, 2023 (22 days ago).
▶ How many KILLABEARS were sold recently?
There were 201 KILLABEARS NFTs sold in the last 30 days.
▶ How much does a KILLABEARS cost?
In the last 30 days, the cheapest KILLABEARS NFT sales were below $908, and the highest sales were for over $2033. The median price for a KILLABEARS NFT was $1041 in the last 30 days.
▶ What are popular KILLABEARS alternatives?
KILLABEARS Community Stats