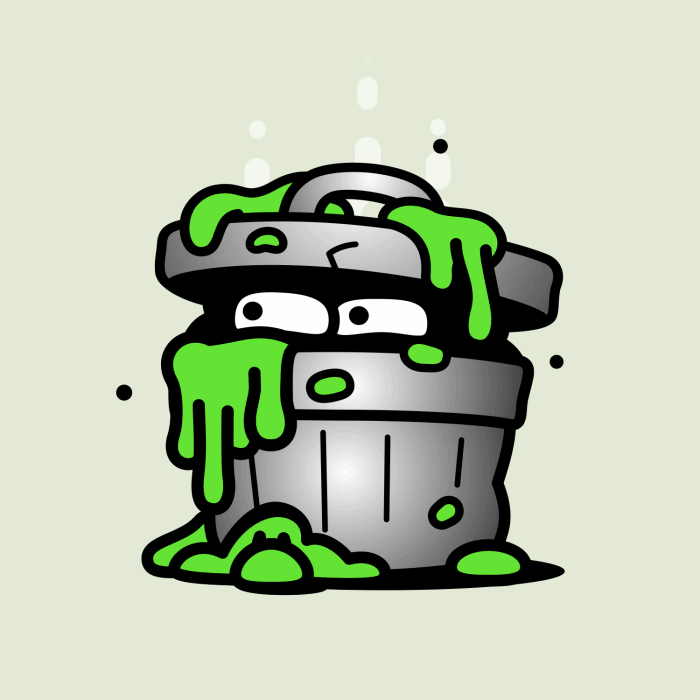 Garbage Cans NFT
Created 4 months ago
500 token supply
OpenSea verified collection
6.5% Fee
9,835 Discord members
Fresh Project
Garbage Cans NFTs were sold 1 times in the last 7 days. The total sales volume for Garbage Cans was $42.41. The average Garbage Cans NFT price was $42.4.
The current Garbage Cans floor price is Ξ0.03.
There are 333 Garbage Cans owners, owning a total supply of 500 tokens. This collection was created 4 months ago (August 16th, 2023). This is a new collection, it is among the newest 4% of collections.
A collection of Garbage Cans representing the second stage in the evolution of a Garbage Friend.
Wanna evolve to Stage 3? No worries, just head over to your upcycle station at: https://www.typicalfriends.com/garbagefriends
Once at your upcycle station you'll be able to stake-burn-evolve… …or as we say in the garbage business, upcycling!
Friendly Reminder: You'll automatically lose your upcycle progress if you list, sell or transfer your token.
Trading volume
last 7 days
$42
Garbage Cans Value
Average price last 7 days
$42
Garbage Cans Floor Price
Lowest Ask Price
Ξ0.03
Total Supply
Number of tokens
500
Owners
Number of owners
333
Users who bought Garbage Cans also like
Garbage Cans Traits
magic can: 0.8%
metal can: 256.6%
paper bag: 10%
paper box: 6.4%
golden can: 3.2%
poison can: 89%
purple can: 23.2%
square can: 147.8%
plastic can: 239.4%
recycle can: 186.6%
biohazard can: 42.4%
radioactive can: 65%
Garbage Cans NFT - Frequently Asked Questions(FAQ)
▶ What is a Garbage Cans?
Garbage Cans is a NFT (Non-fungible token) collection. A collection of digital artwork stored on the blockchain.
▶ How many Garbage Cans tokens exist?
In total there are 500 Garbage Cans NFTs. Currently 333 owners have at least one Garbage Cans NTF in their wallet.
▶ How many Garbage Cans were sold recently?
There were 27 Garbage Cans NFTs sold in the last 30 days.
▶ How much does a Garbage Cans cost?
In the last 30 days, the cheapest Garbage Cans NFT sales were below $41, and the highest sales were for over $93. The median price for a Garbage Cans NFT was $55 in the last 30 days.
▶ What are popular Garbage Cans alternatives?
Garbage Cans Community Stats