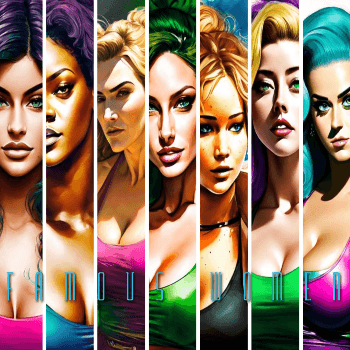 Famous women NFT
Created 3 months ago
9,994 token supply
5% Fee
Fresh Project
Famous women NFTs were sold 68 times in the last 7 days. The total sales volume for Famous women was $199.36. The average Famous women NFT price was $2.9.
The current Famous women floor price is Ξ0.
There are 575 Famous women owners, owning a total supply of 9,994 tokens. This collection was created 3 months ago (September 14th, 2023). This is a new collection, it is among the newest 2% of collections.
"Famous Women" collection consists of 10,000 attractive and unique artworks of 319 successful women in various fields such as acting, singing, dancing, sports, performance, business, etc., designed and implemented by a team of professional artists. has been Each work has different characteristics and narrates a specific situation of the character in question. Our team has spent a long time studying, researching, designing and making this collection in order to meet the expectations of art lovers as best as possible. Our slogan is the satisfaction of buyers and we expect support from collectors and art lovers.
Trading volume
last 7 days
$199
Famous women Value
Average price last 7 days
$3
Famous women Floor Price
Lowest Ask Price
Ξ0
Total Supply
Number of tokens
9,994
Owners
Number of owners
575
10th percentile price
last 7 days
$2
Median price
last 7 days
$3
90th percentile price
last 7 days
$4
Ten percent of the Famous women sales were for $2 or less, half of the sales were for less than $3 and the highest ten percent were sold for $4 or higher.
Users who bought Famous women also like
Famous women NFT - Frequently Asked Questions(FAQ)
▶ What is a Famous women?
Famous women is a NFT (Non-fungible token) collection. A collection of digital artwork stored on the blockchain.
▶ How many Famous women tokens exist?
In total there are 9,994 Famous women NFTs. Currently 575 owners have at least one Famous women NTF in their wallet.
▶ How many Famous women were sold recently?
There were 392 Famous women NFTs sold in the last 30 days.
▶ How much does a Famous women cost?
In the last 30 days, the cheapest Famous women NFT sales were below $2, and the highest sales were for over $4. The median price for a Famous women NFT was $2 in the last 30 days.
▶ What are popular Famous women alternatives?