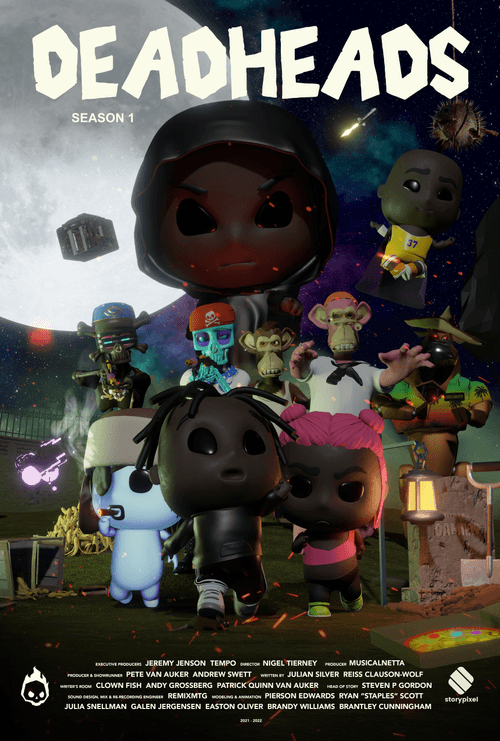 DeadHeads NFT
Created over 2 years ago
10,000 token supply
OpenSea verified collection
7.5% Fee
15,534 Discord members
Classic Project
DeadHeads NFTs were sold 4 times in the last 7 days. The total sales volume for DeadHeads was $89.72. The average DeadHeads NFT price was $22.4.
The current DeadHeads floor price is Ξ0.01.
There are 2,712 DeadHeads owners, owning a total supply of 10,000 tokens. This collection was created over 2 years ago (June 30th, 2021). This is a classic collection, created before 93% of all other collections.
This is Deadheads. The reanimated adventures of dead souls owned by living fans.
We interweave story-telling and web3 technology to disrupt the existing fan experience, watch DeadHeads Animated Series Here
Many of our holders have staked. True number of holders: 4,428
Our underworld is swarming with fresh, corruptible, tradeable souls. With the IP rights in your pocket, you'll get the chance to put your characters in the show or bring them to life in weird and disturbing ways.
By buying the NFT of an original Deadhead, you can give them the chance to appear on the show, make and sell merch, or simply turn them into a 3D model to darken the vibe of your mantlepiece.
Trading volume
last 7 days
$90
DeadHeads Value
Average price last 7 days
$22
DeadHeads Floor Price
Lowest Ask Price
Ξ0.01
Total Supply
Number of tokens
10,000
Owners
Number of owners
2,712
Recent DeadHeads sales
Top Selling DeadHeads NFTs of the last 30 days
Users who bought DeadHeads also like
DeadHeads NFT - Frequently Asked Questions(FAQ)
▶ What is a DeadHeads?
DeadHeads is a NFT (Non-fungible token) collection. A collection of digital artwork stored on the blockchain.
▶ How many DeadHeads tokens exist?
In total there are 10,000 DeadHeads NFTs. Currently 2,712 owners have at least one DeadHeads NTF in their wallet.
▶ What was the most expensive DeadHeads sale?
▶ How many DeadHeads were sold recently?
There were 10 DeadHeads NFTs sold in the last 30 days.
▶ What are popular DeadHeads alternatives?
DeadHeads Community Stats