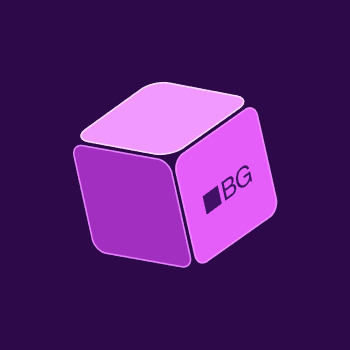 BlockGames Dice NFT
Created 2 months ago
5,555 token supply
OpenSea verified collection
5% Fee
55,810 Discord members
Fresh Project
BlockGames Dice NFTs were sold 2587 times in the last 7 days. The total sales volume for BlockGames Dice was $3.36M. The average BlockGames Dice NFT price was $1.3k.
The current BlockGames Dice floor price is Ξ0.59.
There are 1,909 BlockGames Dice owners, owning a total supply of 5,555 tokens. This collection was created 2 months ago (September 23rd, 2023). This is a new collection, it is among the newest 2% of collections.
BlockGames "BG OG Dice" collection offers access into the BlockGames player network early.
BlockGames is a cross-game, cross-chain player network, created for the players to offer instant rewards while they play their favourite Web2 & web3 mobile games.

Founded in partnership with Estoty, a leading mobile game studio with extensive experience in mobile game development and a user base of 50 million monthly active users. Backed and partnered with leading tech and blockchain giants including Google, Aptos, Polygon, Avalanche, Arbitrum, BNB, BlockGames is positioned to innovate the gaming scene with its network growth in a mutualistic cycle of value exchange
NFTs sold
last 7 days
2,587
Trading volume
last 7 days
$3.36M
BlockGames Dice Value
Average price last 7 days
$1299
BlockGames Dice Floor Price
Lowest Ask Price
Ξ0.59
Total Supply
Number of tokens
5,555
Owners
Number of owners
1,909
Recent BlockGames Dice sales
10th percentile price
last 7 days
$1129
Median price
last 7 days
$1235
90th percentile price
last 7 days
$1557
Ten percent of the BlockGames Dice sales were for $1129 or less, half of the sales were for less than $1235 and the highest ten percent were sold for $1557 or higher.
BlockGames Dice Price Chart
Top Selling BlockGames Dice NFTs of the last 30 days
Users who bought BlockGames Dice also like
BlockGames Dice NFT - Frequently Asked Questions(FAQ)
▶ What is a BlockGames Dice?
BlockGames Dice is a NFT (Non-fungible token) collection. A collection of digital artwork stored on the blockchain.
▶ How many BlockGames Dice tokens exist?
In total there are 5,555 BlockGames Dice NFTs. Currently 1,909 owners have at least one BlockGames Dice NTF in their wallet.
▶ What was the most expensive BlockGames Dice sale?
The most expensive BlockGames Dice NFT sold was
BlockGames Dice #3462
. It was sold for $1.9k on November 25th, 2023 (7 days ago).
▶ How many BlockGames Dice were sold recently?
There were 8,194 BlockGames Dice NFTs sold in the last 30 days.
▶ How much does a BlockGames Dice cost?
In the last 30 days, the cheapest BlockGames Dice NFT sales were below $276, and the highest sales were for over $1371. The median price for a BlockGames Dice NFT was $529 in the last 30 days.
▶ What are popular BlockGames Dice alternatives?
BlockGames Dice Community Stats