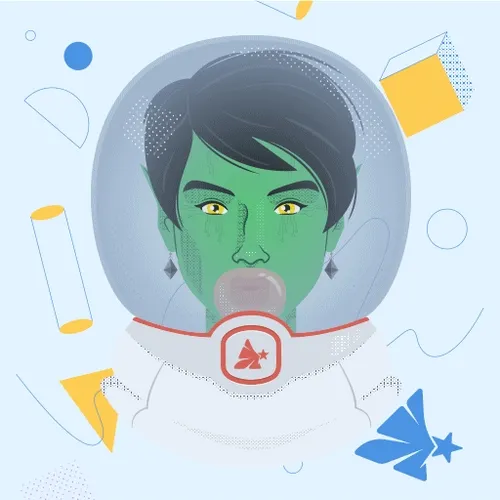 Avastars NFT
Created over 3 years ago
26,516 token supply
OpenSea verified collection
2.5% Fee
4,842 Discord members
24,587 Twitter followers
Classic Project
Avastars NFTs were sold 36 times in the last 7 days. The total sales volume for Avastars was $1.22k. The average Avastars NFT price was $34.
The current Avastars floor price is Ξ0.02.
There are 5,094 Avastars owners, owning a total supply of 26,516 tokens. This collection was created over 3 years ago (February 7th, 2020). This is a classic collection, created before 100% of all other collections.
Avastars (est. in Feb. 2020) are generative characters for the metaverse. Each one is unique and has their art and metadata stored on-chain. Avastars come licensed for use commercially by their owners. Collect Avastar Primes to make Replicants with their trait copies. IMPORTANT: When someone uses/burns a trait copy from an Avastar Prime, OpenSea shows "-Burned" after the trait name. ALWAYS CLICK ON A TRAIT TO SEE IF IT'S COPY IS BURNED BEFORE PURCHASE IF THIS IS IMPORTANT TO YOU. There is also a "MINT CONDITION" trait. All Avastars #0-25,199 are Avastar Primes. #25,200+ are Avastar Replicants. You cannot make a Replicant with another Replicant's traits, and no 2 Avastar Primes or Replicants can ever be the same. You can also see whether an Avastar is a Prime or a Replicant under the "Wave" category. For more info, visit the Avastars Discord.
Trading volume
last 7 days
$1223
Avastars Value
Average price last 7 days
$34
Avastars Floor Price
Lowest Ask Price
Ξ0.02
Total Supply
Number of tokens
26,516
Owners
Number of owners
5,094
Recent Avastars sales
10th percentile price
last 7 days
$16
Median price
last 7 days
$16
90th percentile price
last 7 days
$58
Ten percent of the Avastars sales were for $16 or less, half of the sales were for less than $16 and the highest ten percent were sold for $58 or higher.
Top Selling Avastars NFTs of the last 30 days
Users who bought Avastars also like
Avastars NFT - Frequently Asked Questions(FAQ)
▶ What is a Avastars?
Avastars is a NFT (Non-fungible token) collection. A collection of digital artwork stored on the blockchain.
▶ How many Avastars tokens exist?
In total there are 26,516 Avastars NFTs. Currently 5,094 owners have at least one Avastars NTF in their wallet.
▶ What was the most expensive Avastars sale?
The most expensive Avastars NFT sold was
Avastar #621
. It was sold for $242.6 on September 28th, 2023 (about 2 hours ago).
▶ How many Avastars were sold recently?
There were 127 Avastars NFTs sold in the last 30 days.
▶ How much does a Avastars cost?
In the last 30 days, the cheapest Avastars NFT sales were below $16, and the highest sales were for over $68. The median price for a Avastars NFT was $32 in the last 30 days.
▶ What are popular Avastars alternatives?
Avastars Community Stats