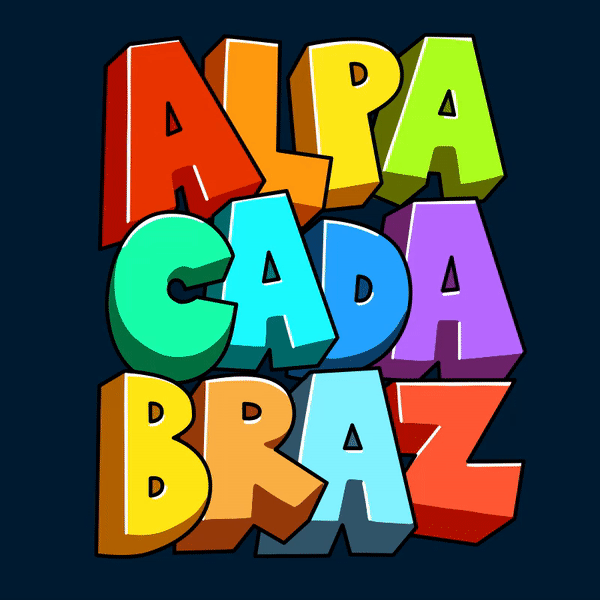 ALPACADABRAZ NFT
Created about 2 years ago
9,669 token supply
OpenSea verified collection
6% Fee
100,820 Discord members
116,982 Twitter followers
ALPACADABRAZ NFTs were sold 7 times in the last 7 days. The total sales volume for ALPACADABRAZ was $359.89. The average ALPACADABRAZ NFT price was $51.4.
The current ALPACADABRAZ floor price is Ξ0.03.
There are 4,507 ALPACADABRAZ owners, owning a total supply of 9,669 tokens. This collection was created about 2 years ago (October 22nd, 2021). It is among the oldest 28% of collections.
Welcome to the ALPACADABRAZ Genesis Collection, created by the talented artist Chuckchee. What began as a fun project between three brothers is now on its way to becoming a beloved brand enjoyed by millions worldwide.
As a Genesis Paca owner, you'll have the exclusive opportunity to be part of the children's brand we are building. In Q1 2023, each Genesis holder will receive a PacaErectus- a 2-legged 3D Paca avatar.
Whether you're new to the world of NFTs or an experienced collector, this is a chance you don't want to miss. Join us on this exciting journey as we bring Chuckchee's imaginative creations to life.
The ALPACADABRAZ Genesis Collection is in the public domain and all copyrights have been waived (CC0).
Trading volume
last 7 days
$360
ALPACADABRAZ Value
Average price last 7 days
$51
ALPACADABRAZ Floor Price
Lowest Ask Price
Ξ0.03
Total Supply
Number of tokens
9,669
Owners
Number of owners
4,507
Recent ALPACADABRAZ sales
Top Selling ALPACADABRAZ NFTs of the last 30 days
Users who bought ALPACADABRAZ also like
ALPACADABRAZ NFT - Frequently Asked Questions(FAQ)
▶ What is a ALPACADABRAZ?
ALPACADABRAZ is a NFT (Non-fungible token) collection. A collection of digital artwork stored on the blockchain.
▶ How many ALPACADABRAZ tokens exist?
In total there are 9,669 ALPACADABRAZ NFTs. Currently 4,507 owners have at least one ALPACADABRAZ NTF in their wallet.
▶ What was the most expensive ALPACADABRAZ sale?
The most expensive ALPACADABRAZ NFT sold was
ALPACADABRA #5819
. It was sold for $83.1 on November 10th, 2023 (22 days ago).
▶ How many ALPACADABRAZ were sold recently?
There were 64 ALPACADABRAZ NFTs sold in the last 30 days.
▶ How much does a ALPACADABRAZ cost?
In the last 30 days, the cheapest ALPACADABRAZ NFT sales were below $36, and the highest sales were for over $71. The median price for a ALPACADABRAZ NFT was $52 in the last 30 days.
▶ What are popular ALPACADABRAZ alternatives?
ALPACADABRAZ Community Stats