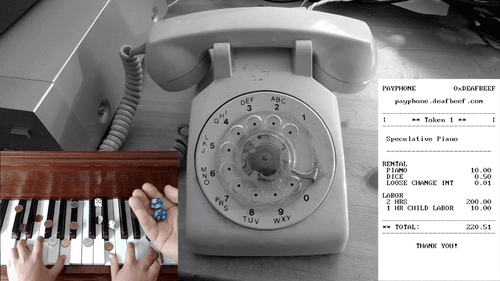 Payphone 1: Speculative Piano
About PAYPHONE by 0xDEAFBEEF
BEEF-E (Payphone) is a human intelligence model* that generates art from any prompt you give!** Or just call to say hi.
*of questionable quality **Lead times may vary. Delivery not guaranteed.
More detail here: https://payphone.deafbeef.com
A live-streamed blockchain performance. Users submit blockchain transactions with a textual message, causing my phone to ring and dictate the message in real time. The result and documentation of the phone prompt and creation process will be minted for sale, with right of first refusal offer to the original prompter.